1st Fram/2nd Ashbourne Winter Camp 1996 Pybus
March 15th-17th 1996
Ten Scouts from 1st Framwellgate Moor and Five from 2nd Ashbourne arrived at Pybus (in the North York Moors on the Friday evening) eventually, along with eleven leaders from the two Troops. After a wide game on the Friday evening while supper was being prepared the Scouts turned in for the night. Thanks to the first car load for digging us out of the centre, and the farmer for lending us the spades (the road up to the centre had been blocked up until the morning of the day we were supposed to arrive).
Saturday morning dawned grey and miserable, we could not even see the top of the ridge to the south of the centre, we decided though to continue with the hikes we had planned, up onto the ridge, crossing or following the Lyke Wake Walk, Cleveland Way and Coast to Coast all of which follow the same route at this point.
After dinner, we gave the Scouts (who by this time were quite tired - the weather hand been quite miserable and the hiking through ankle deep snow quite hard) simple challenges including bread making, the Scoutnet UK IQ quiz and a first aid incident.
Sunday morning dawned grey again, we gave the Scouts the option of what to do, and most of them opted to dig snow holes in the drifts at the top of the hill. We split the Scouts into four groups with a shovel each, and you can see the results of their endeavours.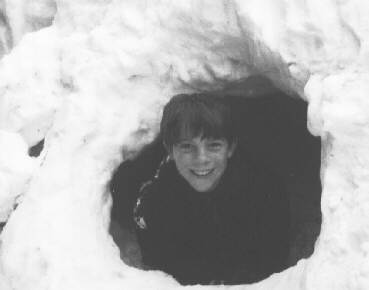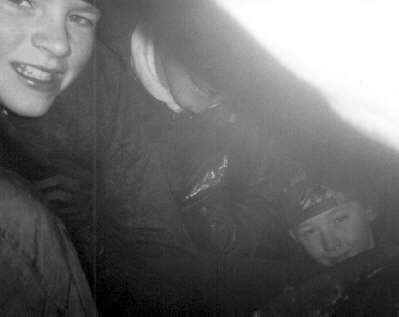 After lunch it was time for a group photo and to say Good-Bye to the Ashbourne Scouts. All that was left for the Scouts to do was to (try to) play football as we waited for parents to arrive to take the Fram Scouts home.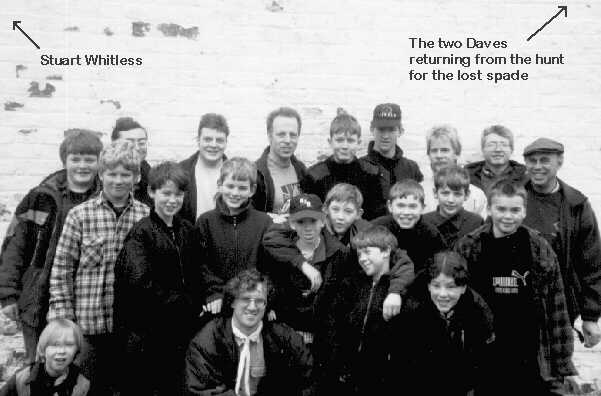 Sam, Michael, Marvin, Hodge, Stephen, Gareth, Ian, Dean, Alf;
Andrew, Richard, Chris, Joe, Craig, Matthew, Kurt, Jim;
Ben, Rob, Tottenham and Peter.